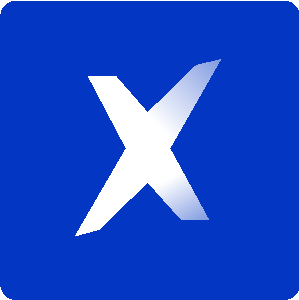 What exactly is Xentara?
"Xentara is a real-time capable universal industrial communications, control and convergence platform created to accelerate the Fourth Industrial Revolution and bring about the paradigms of Industry 4.0."
Well, that's quite a mouthful. So, as we prefer to say:
Xentara is: Enabling the Future
Any Data Source
Any Data Consumer
Any Protocol
Employing a modular Skill framework, the Xentara platform can integrate any kind of industrial field bus or communication protocol as well as IT and cloud services or enterprise applications. 
If it produces data, Xentara can read it. If it needs data, Xentara can feed it.  If it processes data, Xentara can work with it.
Data Structure
Homogenization
Semantic Model
Having connected your south- and northbound systems, Xentara handles all internal and external communications. No matter where your data is kept, you can access it from anywhere, whether local or remote. 
Data is stored in a semantic structure, making it easy to navigate and human readable. The shared data model spans system boundaries.
Real-Time
Deterministic
IT/OT Convergence
Current IT solutions don't fulfil the strict timing requirements for live interaction with industrial machinery while OT lacks flexibility, computing power and connectivity.
Xentara's real-time communication core seamlessly bridges IT based analytics and logics with deterministic machine controls.
Data Visualization
Analytics
(Edge) AI / ML
Bringing intelligence right to the industrial edge, Xentara enables you to deploy AI and ML instances on the shop floor. Besides freeing you from cloud provider dependencies, this allows real-time analytics and optimization.
Data and analysis results can be visualized in different ways, including the Xentara app.
These four key components are what makes Xentara the perfect bridge between the different worlds of Operational Technology and Information Technology. The platform allows for fast and simple  Industrial IoT implementations. It is applicable both to new designs as well as retrofits and Brownfield overhauls.
6 Easy Steps Towards Your Modern Edge Architecture
Creating Industry 4.0 compliant architectures can be a daunting task. Utilizing the power of Xentara, building a smart architecture is possible right on the Industrial Edge. 
This allows you to leverage artificial intelligence or machine learning as well as all kinds of machine metrics and software based control logics to digitalize whole production sites without the need for new machines or expensive cloud services.
Our engineers have broken down the process into six easy steps.
Expand Xentara in limitless ways through a modular Skill system
Incorporate new protocols or field buses easily
Connect to ERP, MES, CAQ, or other Business Intelligence solutions
Adapts to all of your current and future needs
Realtime is not just about speed but precision and synchronicity
Xentara synchronizes timings across distributed systems
Configurable multi-pipeline Timing Model ensures that all processes stay in step even in multicore and multiprocessing environments
Compatible with cutting edge encryption standards
Package Integrity Control and Information Retention Systems ensure safe and stable communication 
Fine grained user roles for access rights management
Multi-Mesh Security across all applications
Legacy equipment can be made IoT-ready with minimum effort
Machine fleets in active production can be integrated and optimized without expensive replacement procedures
Upgrades require minimal downtime
Unprecedented access times and transfer speeds
Receive all of your data instantly
Say goodbye to waiting for reports for hours or days
Harness the value of your data right at the moment that it is generated
Semantic model with unified namespace for local and remote data points
Unified shop floor architecture enables swift configuration
Full Unicode support for multi- language models and interfaces
Application developers can access any subsystem through a unified interface
A vast range of Skills for all kinds of different purposes is already available and growing continuously. This is just an excerpt of the most important ones that our industrial customers are currently using:
Southbound Connector
EtherCAT Driver
Modbus Driver
OPC UA Client
National Instruments Rack Driver
Northbound Connector
MQTT Client
Web Service
OPC UA Server
Modbus Server
Sparkplug Edge Node
PLC Connector
Beckhoff ADS Driver
S7 Driver
ARTI Driver
CODESYS Driver
Edge AI
ONNX Engine
Torch Engine
Tensorflow Lite Engine
Hardware Driver
Comedi Driver
Pickering PXI Driver
SPI Driver
Cloud Database Connector
Clarify Client
InfluxDB Client
Most Skills serve multiple purposes. 
The ONNX engine, e.g., allows you to access almost any Machine Learning interface currently in widespread use. Lots of simulation systems and control logics speak FMU.
New Skills are constantly being developed and released. Please inquire directly for any protocol or interface not listed – chances are it's already in development or on our roadmap.
Xentara is connecting worlds... One of the biggest problems in industrial digitalization is that the more data becomes available, the harder it becomes to make sense of it. Rising levels of complexity require not only more storage space and computing power, but primarily good data handling strategies. Otherwise, it is easy to be overwhelmed by the sheer flow of information. To realize the value within that data, you need the right tools.
That is why we developed an easy to use tablet and smartphone app as a seamless interface.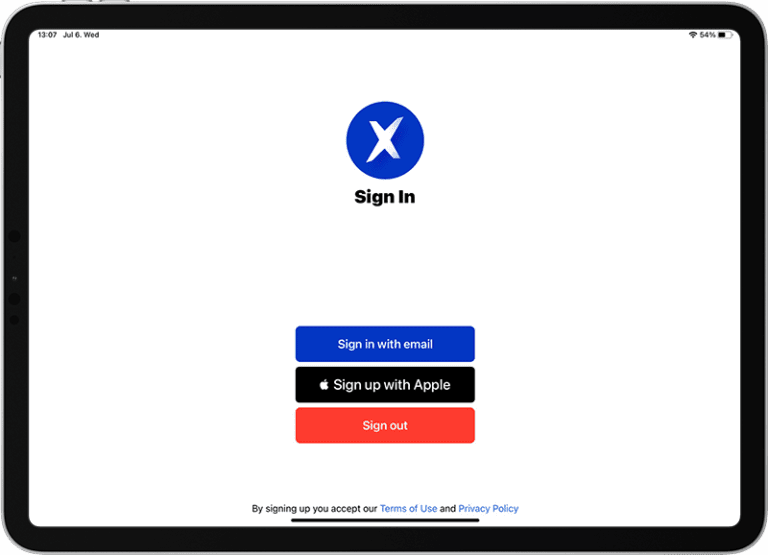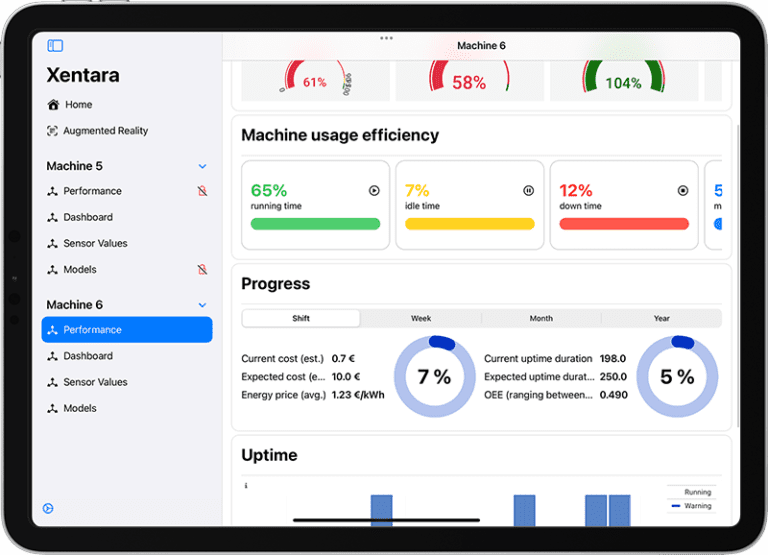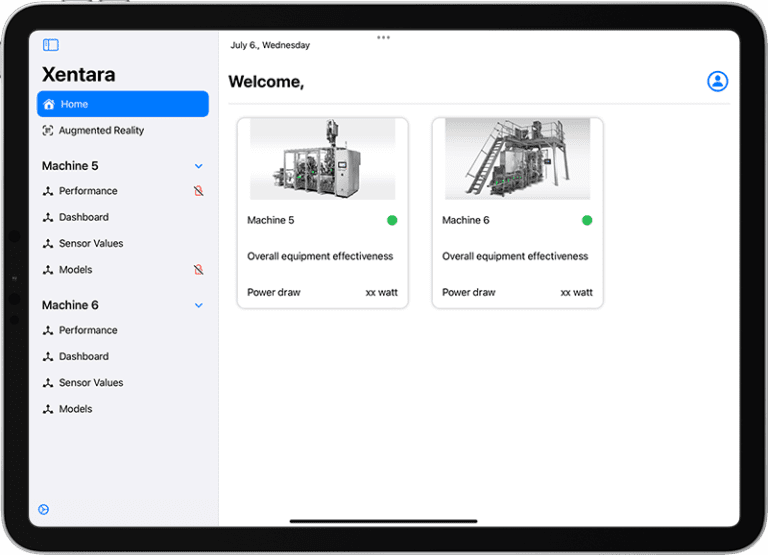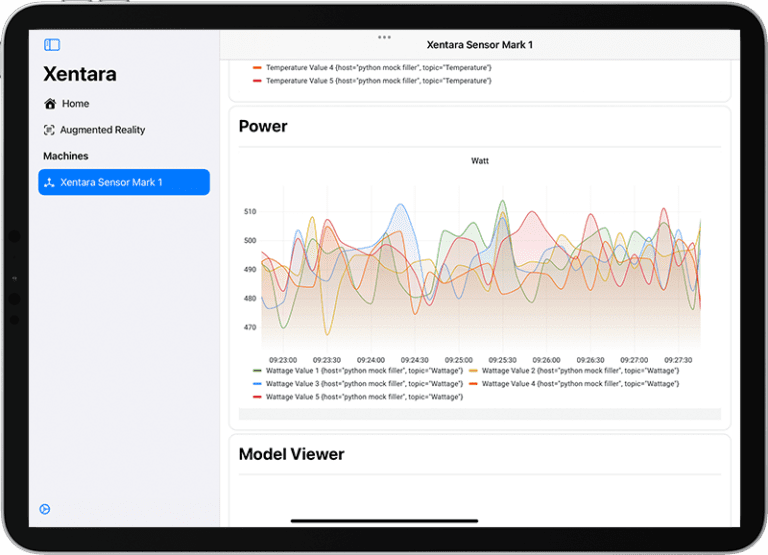 The app displays your data in a wide variety of graphical representations.
Scalable timelines allow exploring historical data over user selected spans ranging from months to milliseconds.
Analytic results and trends can be mixed with live machine data for direct comparison.
AI-generated summaries help the user gain an overview over huge datasets at a glance.
The App uses a powerful AR framework to help you navigate machines and associated data.
Scan anchor points on machines to see sensor data overlaid on the live picture captured by your camera.
Put virtual models of machines anywhere in the room and explore the finest details. The model always displays the current live state of the actual machine.
For remote maintenance, you can see any faults immediately.
Information flows both ways. Thanks to Xentara's real-time capability, machines can be remote controlled right from your mobile device.
Either the complete Human-Machine-Interface or just the desired functions can be reproduced in the Xentara App and operated via touchscreen. Change effects are seen immediately in the live display.
One app can control an unlimited number of machines.
The Xentara App is currently available for iPad, iPhone and Mac via Testflight. Please contact us for early access.
Processor

x86-64
ARM processor capable of running Linux / Windows

MMU controller required
64bit (Windows/Linux): ARMv8-A instruction set required
32bit (Linux only): ARMv7-A with VFPv3-D16 floating point support required

Storage
Operating system

Windows 10 64 bit
Linux

Reference distributions: Debian 11, Ubuntu 20.04.2.0 LTS or similar
Please inquire for support of other Linux distributions

 Deployment

Windows: MSI installer
Linux: apt install from online repository

Xentara can be deployed in virtualized environments (Docker containers et al.) with certain limitations (e.g. with regard to real-time behavior or system timing control)
Deterministic real-time data processing and communication requires real-time capable operating system (i.e. Preempt-Patch for Linux)
Distributed process timing control requires TSN capable Ethernet adapter and routers / switches
Some skills include sublicensed third-party IP not directly provided by embedded ocean GmbH
Please inquire for detailed list of tested and validated hardware
Please inquire for detailed list of tested and certified software / protocol versions
Performance data based on measurements performed on reference test platform
(Intel® Xeon® CPU W3503 @ 2.40GHz)